Configure Appointment Details
SystmOnline
View your electronic medical record, manage appointments and order repeat prescriptions.
Struggling to get an appointment that works for you?
Since 1st October the new enhanced access service has been available to patients where you can pre-book appointments around your busy schedules 7 days a week.
Monday - Friday: 18:30-21:00
Saturday & Sunday: 09:00-17:00
The appointment may be at a local 'hub' rather than at the surgery. They will have access to your notes and you will see a GP/ Advanced Practitioner/ Nurse Practitioner or Nurse. Depending on your needs and who is most suitable for your illness/ailment.
Make an Online Request
Contact your doctor online and avoid phone queues
How does the service work?
Complete a simple form about your problem or request

Your GPs decide on the best treatment for you

The practice responds with advice, a prescription or an appointment

You will get a response within 2 working days
Click here to submit an eConsult now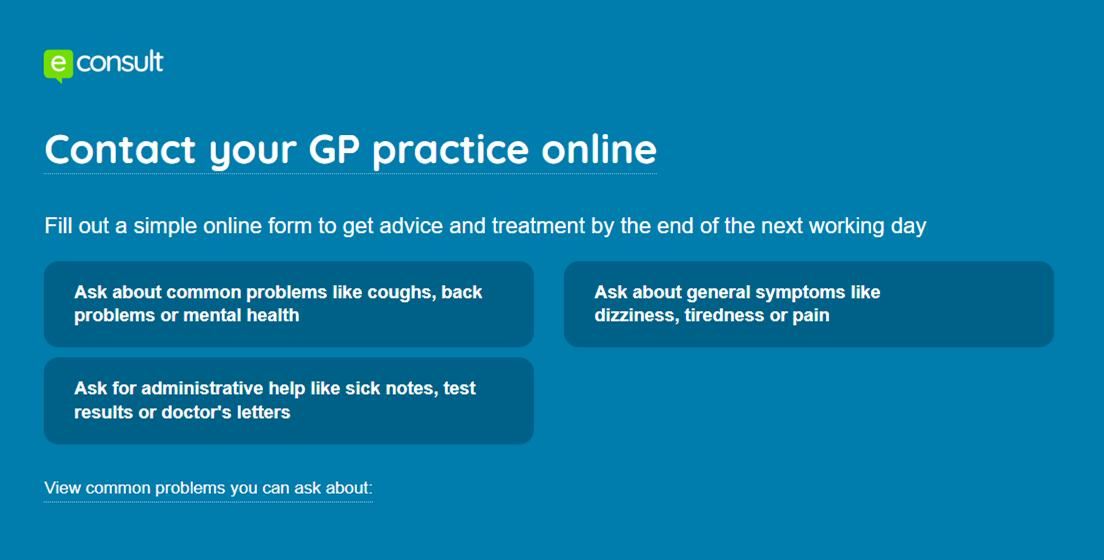 Home Visits
Patients are requested, where possible, to telephone before 11am if a home visit is required that day.
We would request that, apart from the genuinely housebound, all other patients attend the surgery rather than request a home visit because of the extra time home visiting takes. On average four to five patients can be seen in surgery in the time it takes to do a single house call. In addition, the care that can be offered due to the lack of adequate lighting, examination facilities and equipment means that you may not receive as good a service as the doctor may be able to offer if you came to the surgery.
Please note that the doctor may telephone you rather than visit you if this is medically appropriate. Ultimately it is the doctors right to decide whether or not a visit is appropriate for a particular set of circumstances.
Cancelling or changing an appointment
Please contact us as early as possible to cancel an appointment. You can either call the pratice, or complete our appointment cancellation form. This can only be used if your appointment has been arranged for more than 24 hours in advance (excluding weekends and public holidays).
If you need help when we are closed
Click here for information about out-of-hours services available.
If you need help with your appointment
Please tell us:
If there's a specific doctor, nurse or other health professional you would prefer to respond
If you would prefer to consult with the doctor or nurse by phone, face-to-face or by video call
If you need an interpreter
If you have any other access or communication needs
Text Reminder Service
We have a texting service which allows you to receive confirmation and reminders about your appointments.
To have this service you will need to register by completing a consent form.
Please remember to update your contact details with us when you change address, telephone numbers and email address.
Complete our SMS Reminder Form
Travel vaccinations
If you're planning to travel outside the UK you may need to be vaccinated against some of the serious diseases found in other parts of the world.